About COMPOSE and COMPOSE PLUS
COMPOSE (Rural Communities Engaged with Positive Energy) supports local authorities to build low carbon communities and to increase the renewable energy sources share in the local/regional energy mix, in 11 Mediterranean regions.
During the project, a holistic, step-by-step, methodological approach has been developed to foster the efficient implementation of local energy plans, engaging the local stakeholders and taking into account not only technical, but also socio-economic and environmental aspects.
18 sustainable energy demonstration actions
were implemented, testing on the field the COMPOSE Common Methodology for Development. Those actions promote the use of RES and energy efficiency measures by exploiting the local potential, developing sustainable supply chains and enhancing local growth and economy in Albania, Bosnia & Herzegovina, Croatia, Cyprus, France, Greece, Italy, Montenegro, Portugal, Slovenia and Spain.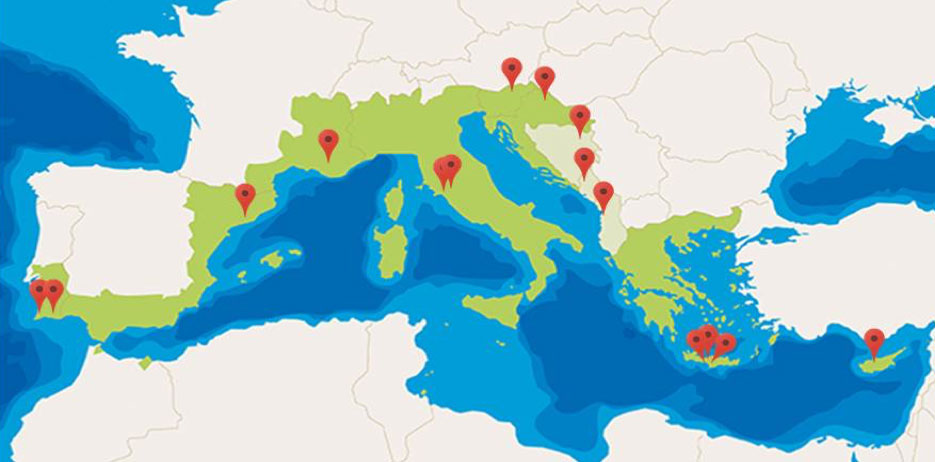 Location of the 18 COMPOSE demonstration actions
Through the development and showcasing of the demonstration actions and the COMPOSE toolbox, the project contributes to an increased capacity for sustainable energy projects development at the decision-making and planning levels and encourages the sustainable use of local natural resources, green investments, new business models and smart applications, aspiring to give a boost to local green economy. The COMPOSE toolbox was designed and developed by the Renewable and Sustainable Energy Systems Laboratory of the Technical University of Crete.
COMPOSE was co-funded by the European Regional Development Fund (Project No: 1001/MED 2014-2020); it lies under the Priority Axis 2. 'Low Carbon Economy' of the Interreg MED Programme and contributes to the Specific Objective (SO) 2.2: To increase the share of renewable energy sources in energy mix strategies and plans in specific MED territories (island and rural areas).
In 2021, COMPOSE becomes COMPOSE PLUS.
COMPOSE PLUS brings together a consortium of 12 highly motivated partners from 7 MED countries (Slovenia, Greece, Italy, Croatia, Portugal, Malta, Bosnia & Hersegovina) aiming to foster further use of the COMPOSE toolbox, and mainstreaming the COMPOSE model approach.
COMPOSE PLUS increased the capacity of MED local communities to mature clean energy projects and to exploit development opportunities within the EU Green Deal towards their energy transition, through targeted capacity building and knowledge tranferring activities.
Over 25 training courses were implemented, reaching directly over 800 decision makers and development planners, including tailored train the trainer sessions for experts, potential trainers of the COMPOSE tool. Over 30 new territories were committed, by signing the COMPOSE PLUS MoU, to follow the COMPOSE model approach aiming to make the green transition a reality. By tranferring the fully functional Sustainable Energy Planning Toolbox to new territories, the benefits of the COMPOSE and COMPOSE PLUS projects look set to continue.
COMPOSE PLUS is co-funded by the European Development Fund in the frame of Interreg MED Programme (Project No: 7661/MED 2014-2023).
Find more about COMPOSE and COMPOSE PLUS
here
.
The COMPOSE team