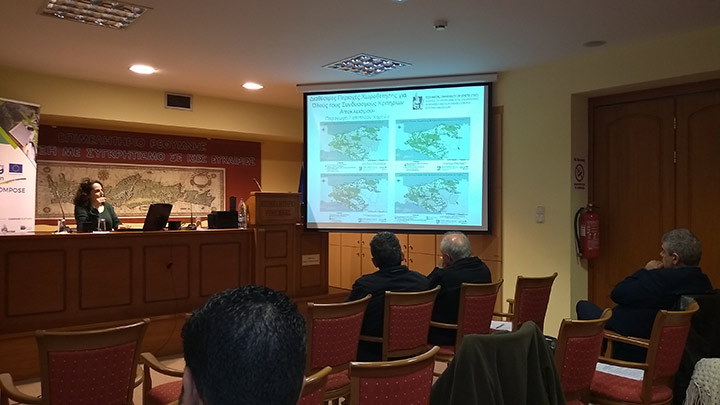 FOSTERING SOCIAL ACCEPTANCE AND LOCAL INVESTMENTS OF SMALL-SCALE RES
GREECE, CRETE, RETHYMNO PERFECTURE
Zavedanje / Sprememba vedenja / Družbeno sprejemanje, Biomasa/Bioenergija, Sončna energija, Spletna orodja / pametni monitoring, Vetrna energija
Overview
The pilot action demonstrates the positive effects of RES applications, aiming to foster social acceptance and enhance local small RES investments.
To achieve this target, the pilot action delivers:
a methodology to identify optimum areas for RES applications, using GIS & multi-criteria analysis;
a tailored web tool to quantify and assess quickly the siting and feasibility of small-scale RES;
a Q&A publication on small scale RES systems to foster knowledge & consensus of local people and
an awareness raising campaign to overcome local opposition regarding local investments in RES.
The methodology developed for appropriate siting and sustainable RES projects, also the web tool to assess the sustainable siting of RES can be easily replicated at a regional level and in other MED areas.
Macro objectives:
Increase of energy produced from RES in the local energy mix
GHG emissions reduction by decreasing the use of fossil fuels for electricity production
Foster local development
Specific objectives:
Exploit RES potentials in small scale local level
Lower energy costs
Investment opportunities for local suppliers and engineers
Raise awareness on small- scale RES, to push development at local level
Impacts to be achieved by 2030:
CO2 emissions saved/y: 27,450 t
Electricity generated from RES: 84,510 MWh/y
Ready more here